MAIONE (ÂþÄÝ) Youth Original Essence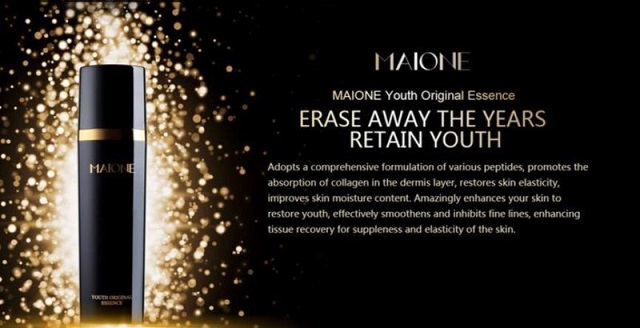 A NEW REVOLUTIONARY SKIN CARE For Lady & Gentleman!
MAIONE (ÂþÄÝ) Youth Original Essence ( 5-in-1/Ò»Ö§×ßÌìÏÂ)
Anti-aging
Brightening
Skin Firming
Smoothen Wrinkles
Soothing Sensitive Skin
Removing Dark circles and eye bags
Reducing Pigmentation and healing skin
Removing Dark circles and eye bags

Now, you can achieve better beauty look with 5-in-1 skin care product which can replace with 5 skin care products for restoring from wrinkles, scar, acne, firm and etc.:-
Night Cream
Day Cream
Eye Cream
Essence
Toner

By using Maione product, you will benefit from few factors:-
Cost effective
Fast result feeling
Reducing application time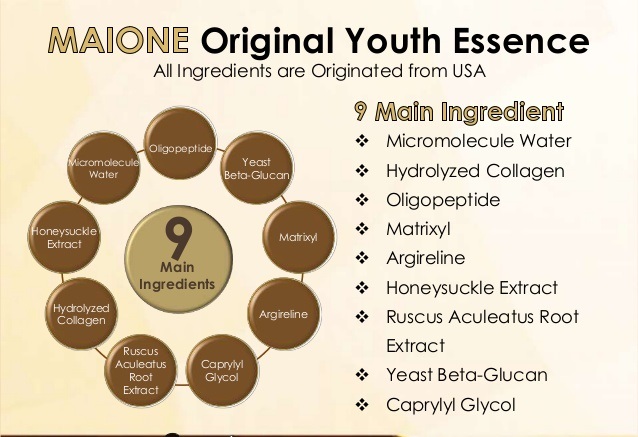 Product Consists of 9 Main Ingredients:-
1. Micromolecule Water
2. Lonicera Caprifolium Flower Extract
3. Yeast Extract
4. Acetyl Hexapeptide-8
5. Palmitoyl Pentapeptide-4
6. Ruscus Aculeatus Root Extract
7. Hydrolyzed Collagen (3000 Dalton)
8. Sodium Hyaluronate
9. Caprylyl Glycol

Product With SGS Analysis Report & Do Not Consist of 7 Harmful Additives:-
Alcohol (¾Æ¾«)
Synthetic Fragrances (Ï㾫)
Colouring (É«ËØ)
Synthetic Hormones (¼¤ËØ)
Emulsifier - Mixed paraben (È黯"©)
Chemical Preservatives (»¯ŒW·À¸¯"©)
Heavy Metal - Lead, Mercury, Arsenic (ÖؽðŒÙ- ãU,¹¯,Éé)
Other Benefits
Good for male and female.
It can be used after make-up as well.
Use for restoring firm outlook on your arms, legs, butt and other areas.

Product Testimonial
A lot of product testimonials available for viewing upon request to avoid being misused by other parties for supporting their products which were not relevant with it. You definitely have amazing feeling after viewing it.
MAIONE (ÂþÄÝ) Youth Original Essence FAQ, click here.
Product Packaging Information
Volume: 120ml
Box Dimension: H 178mm X W 52mm X L 44mm
Weight: 150mg
20 boxes/carton : H 290mm X L 350mm X W 260mm
Weight: 6.20Kgs
Product Cross Reference Pricing Comparison (For Reference Use Only!)
If you wish to know more about the product cross reference pricing comparison, please click here.
Direction of Use
Spray Maione twice a day (day and night) on your face after cleansing. Minimum 2 sprays should be enough to cover your entire face with Maione. During the day time, after spraying Maione, you may do apply sunblock for better protection.
Place the spray nozzle 15cm away from your face, and press hard and full on the nozzle so that tiny mist will land on your face evenly to allow Maione to be absorbed naturally. spraying too near the surface area may form large droplets and causing too much product to be absorbed by the skin.
For new user, exfoliate your skin first before spraying Maione.
Keep Maione in cool temperatures. Do not refrigerate or place it near high temperatures. Drastic temperature may affect the effectiveness of the product.
Note: Maione product with Commercial General Liability Insurance Cover.
For those like to know more, or want to be our sales agent or distributor, don't be hesitate to contact us any time.
Alternatively, you may send your further enquiry to info@acetech.com.my